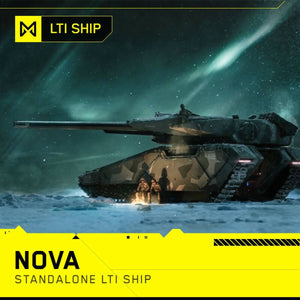 ---
---
Description:

WHAT IS INSIDE

• Lifetime Insurance Nova Tank (CCU'd)
• Self-Land Hangar

BEFORE YOU BUY

• When purchasing the product, I know your Space Foundry email address. However, if your email address is different, please message me. Please note that the email address does not necessarily need to be the same as your RSI account email address.
• Before clicking on any links or images in the gift email, make sure to log in to the RSI account where you intend to claim the item on the RSI website.
• If you require delivery proof, please contact me through any communication channel and make the request within 3 days after receiving the delivery.
• The product will be delivered as soon as possible, usually within 24 hours.

TERMS AND CONDITIONS

• The product is non-refundable as it can only be gifted once.
• To own this product, you must have a copy of Star Citizen, which means you need to own a starter pack or be a part of the concierge program.
• This is a digital item.
• This is a standalone ship, not a starter pack or game pack.
• The word "CCU'd" means ship is upgraded from other ship, "OC" means ship is not upgraded from other ship.
• If ship is not flyable, you will be given another ship based on table released by CIG.
---
Product Tags:
Post