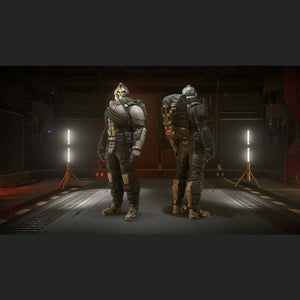 ---
---
Description:
The Sangar helmet from Vigil is both practical and eye-catching, thanks to a prominent brow ridge meant to absorb and disperse strikes through the helmet's special impact-resistant inner lining. Featuring high quality diamond laminate lens over the eyes and a top tier dual sensor air filtration system protruding from the front like fangs, Virgil has ensured that the Sangar helmet can take a beating and look good doing it in every situation from a hostile environment to a frantic firefight.
Featuring fortified armor plating, special anti-rip protective padding and ample storage, the Morozov-SH is ready to overcome all kinds of adversity. After consulting with security professionals, RRS added a unique high protective collar and a lightweight inner lining based on their recommendation; making the Morozov-SH both comfortable and a battlefield stalwart.
Comfortably carry vital gear with the Morozov-CH backpack. This softshell bag is made with an advanced duraweave that's lightweight yet ready for battlefield action. It also features several easy to access pockets and a plethora of straps to keep supplies secure and tight to your back.
---
Extra Information
| | |
| --- | --- |
| CCU'D | No |
| PRODUCTION STATE | Flight Ready |
Post