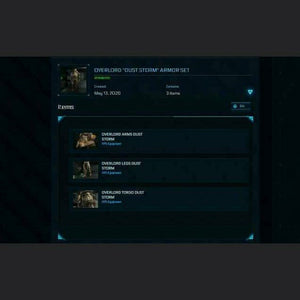 ---
---
Description:
Item Type: Heavy Armor
Damage Reduction: 40%
Carrying Capacity: 20K SP
Temp. Rating: -87 / 87 °C
Helmet Not Included
Some consider the Overlords heroes and other criminals. Doomsday doesn't care either way. All we know is that the vigilante group that made a name for itself targeting outlaws in Pyro has some kickass, distinct, and resilient armor. Since we respect the rule of law as much as they do, we made a limited run of armor inspired by them. If they have a problem with it, they can come find us.
The Overlord armor lets your foes know that you mean business. This heavy armor set is constructed with durable composite plating strategically placed to disperse the force of impacts and a high, reinforced collar that provides additional protection for your neck and back of head. The suit also layers in high-strength synthetic fabrics around the joints to ensure ease of moment without sacrificing safety. The Overlord is available in several distinct colors worn by members of the (in)famous faction. Maybe just don't wear one while in Pyro unless you're looking for trouble. Don't say we didn't warn you!
Included in sale:
OVERLORD ARMS DUST STORM
OVERLORD LEGS DUST STORM
OVERLORD TORSO DUST STORM
---
Product Tags:
Post