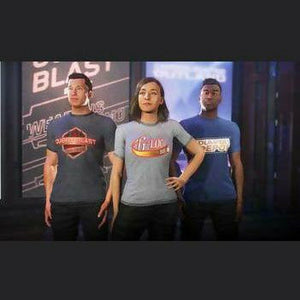 ---
---
Description:
Cubby Blast T-Shirt
Show your support for local and independently owned businesses with this Cubby Blast t-shirt. From its infectious holo-jingle promising "racks of rifles, stacks of shotguns, piles of pistols" to Clor Vee, the eccentric owner with a thick Cathcart accent, Cubby Blast remains one of Area18's most unique shops, and a refreshing change of pace from the corporate-owned chain stores that dominant the Empire.
Dumper's Depot T-Shirt
Be sure to keep this shirt off the scrap heap. Made from ring-spun cotton for an ultra-comfortable fit, this Dumper's Depot shirt features an animated spinning gear in the logo that's bound to get people's attention.
G-Loc Bar T-Shirt
Raise a glass to the expert drink-slingers at the G-Loc Bar with this t-shirt. Area18's finest watering hole is known for their heavy pours on classic cocktails, like the Wingman's Hangover and Nick's Mistake. Snag this shirt to celebrate their generosity and help you remember where the night started.
---
Post